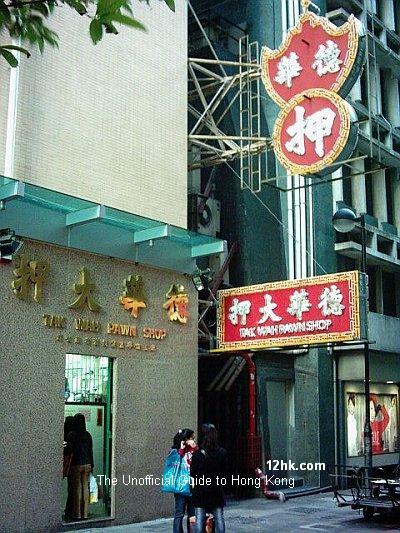 Though the pawn shop business had seemed to be phasing out a few years ago, it seems to be thriving nowadays.
Some of them have been around for years and don't even have an English name. But some seem to want the English-speaking business as well - or at least those who don't read Chinese, and have an English name. But then it is not hard to spot them: they always have that symbol that looks like an upside down medal.
Unlike pawn shops in US where they are also the thrift stores, Hong Kong pawn shops are generally just money lenders. Rumours are that when the collateral is not collected by the prescribed period, it ends up in flea markets (e.g. Apliu Street) and thrift stores.
One thing interesting about pawn shops is that there is always a screen blocking the view of customers inside. Another interesting thing about them is that their counters are always very high, so high that one has to raise one's arms to pawn anything. I guess you can calling it "fund-raising"! (Pictured above: a pawn shop in Central district)