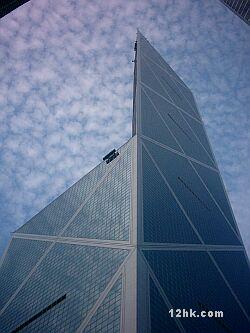 Designed by the world-renowned I.M. Pei, standing at sixty some stories high in the skyline of Hong Kong Island, it is one of the tallest buildings in Hong Kong.
One of the floors is an observation floor. During office hours, you can go up there and look around Hong Kong. Picture taking is a little iffy since there is thick glass on the windows. If nothing else, just riding the elevator could be an experience!
It is in between the Central and Admiral MTR stations but a bit closer to the Admiralty one.