Lantau Island is the largest outlying island. It is a great place to get away from the crowds especially on weekdays.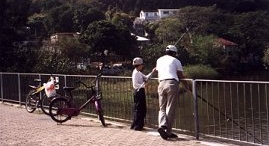 A popular place is Mui Wo / Silvermine Beach. It is a good place to take your kids if they are 10 or under. In addition to the beach, there are bicycles to rent, and a playground with no crowds - a rare sight in Hong Kong. You can even do a bit of fishing there!
There are also a lot of trails to hike/walk on. If you want to really chill, you can stay at the little hotel at the beach - Silvermine Beach Hotel.