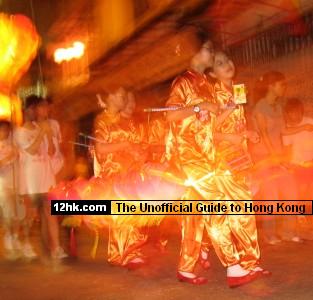 The name may sound suspicious, but no one gets hanged at the Tai Hang Fire Dragon Dance. It is a local festival observed annually in the fall season by residents in the Tai Hang area (in between Causeway Bay and Tin Hau areas).
The main attraction is basically a dragon made of thousands of lit incense sticks, held up by a team of the Tai Hang residents parading through a few streets. In addition as part of the parade, there are also children dressed up in traditional Chinese garb holding lanterns. (Left: children form part of the parade in the Tai Hang Fire Dragon Dance)
It is within walking distance from the Tin Hau MTR station.