Taipei City Guide


Above: the neon lights near Ximending in Taipei city, Taiwan
Taipei, rich with Chinese traditions, is an interesting city to explore especially if you like Chinese snacks. Being just ~1.5 hours of flight time from Hong Kong, it's a great destination for a weekend trip.

Ximending - shopping, eating
Shilin night market - shopping, eating
Keelung night market
Taipei 101 - second tallest building in the world
Taipei Zoo - alleged to be largest in Asia
National Palace Museum
Yangmingshan National Park - mountain resorts and hotsprings
Danshui -
Beitou - old streets
"camera street"



HIGHLIGHTS

Above left: a dish of Taiwanese appetizer
Above center: a feeding scene in the Modern Toilet Restaurant in the vicinity of Shilin night market
Above right: a resident at the Taipei Zoo waiting for you patiently
Above: inside an MRT station in Taipei during off-peak hours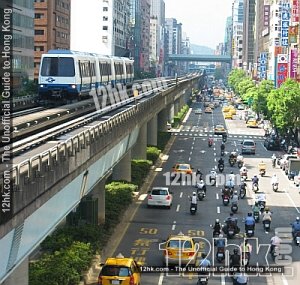 With Taipei's convenient Metro subway system, aka MRT, it is very easy to get around. And it greatly reduces the chance of getting lost.
Worth mentioning is how well the passengers line up. During peak hours, the lines to get aboard would snake around but the orderliness is absolutely amazing - and nice. Taipei transportation
(2010.7.20)
Above: the Muzha-Neihu line of the Taipei Metro subway train system