The Chek Lap Kok Hong Kong International Airport is one of the busiest airports in the world. Yet since it is relatively new, it does not feel crowded - except when you need to line up to go through immigration (unless you are a Hong Kong resident).
Since the airport is located on an island (Lantau Island) away from the main parts of Hong Kong, it generally takes an hour or an hour and a half to get to or fro. see airport transportaion for more info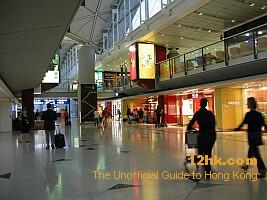 There are shops in the departure level where you check in and above the shops there are restaurants.
Once you have gone through immigrations into the restricted area, there are more shops and restaurants. Actually there are more shops there than in the check-in area, varying from herbalist shops where you can buy ginseng and other expensive items to take back as a gift, to bookstores to get a novel for your long flight. (Left: shops in the restricted departure area.)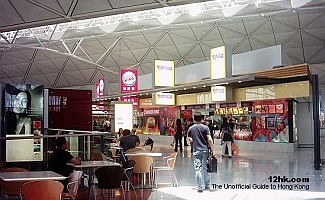 The restaurants in the restricted departure area are arranged in a food-court style and there is plenty of seating. In the arrival level after you have come out of immigrations and customs, there are a few restaurants, including a coffee shop, but seating in the restaurants may not be easy to find especially during meal times. The coffee shop offers free internet terminals but you need to put down a deposit for the wireless mouse. Wifi seems quite weak in the airport, but I have not done extensive testing. (Above: food court in the restricted departure area.)