Hong Kong Airport Transportation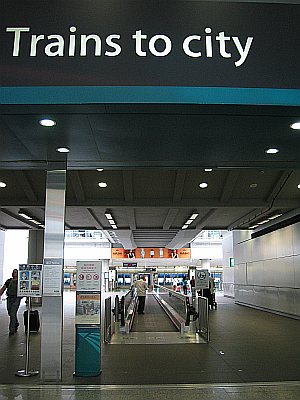 There are many ways to skin this cat! Express train, buses, taxies, and ferries are the main choices. (But if you're staying at one of the airport hotels, you may not even need to read this.)
Airport Buses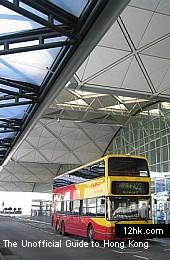 Named Airbus or Cityflyer, they are buses that take you between the airport and the urban areas.

They have some luggage space on board (not quite enough for everyone though!) Their route numbers always start with an A, E, N, or S, e.g. A21.
The A buses are the fastest among these buses because they don't loop among as much in the city.
The E buses get you there - takes longer, but costs less than the 'A' buses.
The N buses only run in the small hours of the morning.
The S buses only go between "Tung Chung" (the town closest to the airport) and the airport.
This is probably the most cost-effective way to go, but if you have more luggage than you can handle by yourself, this is not a good choice unless you know that the bus-stop is right in front of your hotel.

Refer to the bus company websites listed in links section to get more info on routes.
Taxi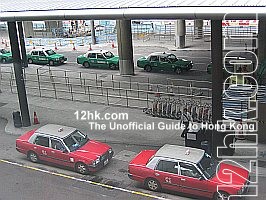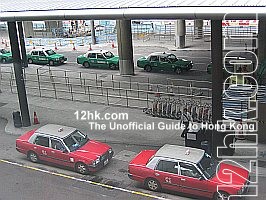 Above: taxis lined up at the airport waiting for customers Taxies can take you from anywhere to the airport. But when going from the airport to your destination, you need to get in the right kind of taxi. Fear not though, there're usually attendants at the airport taxi stand to assist you. It is probably the fastest way unless there is a traffic jam, or a marathon or demonstration going on.
The 3 kinds of taxies: red, green, and blue.
Blue taxis
- They can only operate on
Lantau Island
(where the airport is located), but most likely your hotel is not there - but then you may be staying at one of the
airport hotels
or the land of magic: the
Disneyland
.
Green taxis
- They can only operate in the New Territories, the region north of Kowloon Peninsula.
Red taxis
- They can go anywhere except for outlying islands not connected with a bridge.
Summary
- All three kinds can go to and from the
airport
. So at the airport, get in the right queue! And when in doubt, ask! If you don't want to ask, just get in a red one - it may cost a bit more though!
The approximate costs to go from the airport to different parts of Hong Kong are posted next to the doors just before the taxi queues. You will want to pay some attention to that because you may run into taxi drivers in sheep's clothing!
Airport Express train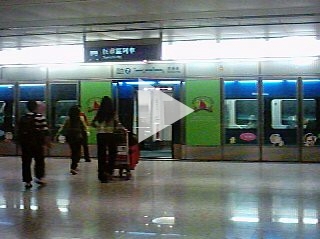 The Airport Express is a special train linking the airport with the urban area and the subway (
MTR
). They also have free shuttle buses taking you from the Kowloon or Hong Kong station to different places (after you have ridden the Airport Express train to the urban area, or planning to take that train to the airport).
There are 7 shuttle bus routes servicing some Hong Kong and Kowloon hotels. One services the MTR Hung Hom train station where you can take trains into China mainland (e.g. Shenzhen, Guangzhou, Beijing, Shanghai).
Top right:Airport Express train platform (8MB AVI)
The Airport Express train is a comfortable ride of about 25 minutes to get from the airport to the Central District. It takes slightly shorter to go to the Kowloon Station, and just half the time to Tsing Yi station. At the time of writing, it generally runs every 12 minutes and costs HK$100 for adults (~US$12.50) one way between the airport and Central. Their operating hours from the airport are: 5:54am - 00:48am. (2011.06.04)

Generally speaking, a good combination is taking it and connecting to a taxi after it arrives urban Hong Kong, i.e. Hong Kong Island, Kowloon, etc. This way you can get to your destination in Kowloon or Hong Kong Island in about an hour but for less cost than taking a taxi all the way, and there will be people to help you with your luggage pretty much at each point.
Private Cars
There is ample parking at the airport and the drive is generally about half an hour to an hour. But there are tunnel and bridge tolls to take care of. So if you plan on flying your car to Hong Kong, with the right import papers, you might just be able to drive it to the hotel!




Rental Cars
Rental cars are quite rare. In fact you won't see a row of car rental booths at the airport like you would in N. America, and I don't know of any tourist who has ever rented a car to drive, but they are available if you want to battle the Hong Kong traffic with all the one-way streets, bus lanes, traffic lights, and pedestrians. Check our transportation links page - you can also rent chauffeured vehicles.
Rickshaws
You want to take a rickshaw from the airport to your hotel?? You've got to be kidding!

If you just want to have a picture taken, there was one sitting outside of a restaurant on the second floor of the Hong Kong airport. (Not sure if it is still there!) And then I have also seen one outside the marriage registration office located in Hong Kong Park. There are also some parked outside the Star Ferry Pier in Central that you can buy but not ride. 2007.6




Others
Ferries

: they take you from the airport to a couple of places, probably neither of which is close to where you stay. But there is a pier that you can catch a ferry to a few ports on mainland China - without even going through the Hong Kong immigration. Just look for the counter at the airport after you get off the plane but before you go through immigrations.



Hotel transportation

: provided by individual hotels. The cost is usually not bad but you have to leave the hotel much earlier than necessary if you're taking it to the airport on your way out of Hong Kong.

Group travelling

: if there are three people in your party and your luggage can fit into the trunk of a car, you might as well take a taxi for the convenience. But as mentioned above, beware of taxi drivers in sheep's clothing.



Tung Chung MTR line

: one possible way of getting from the airport to urban Hong Kong is to take a blue taxi to a nearby town Tung Chung, and catching the MTR (subway). The journey took me an hour to get to Central District at 11 pm, which is not much of a time-saver nor cost-cutting. You could take the bus (S1?) from the airport to Tung Chung, but I think the hassle is not worth the small savings, and I don't think the bus is equipped to take on much luggage.