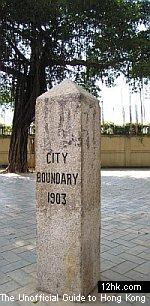 Happy Valley is an area known for its horse racing course. It is also an enclave for a mix of the locals and expatriates when it comes to residents. Many local movie stars also call it their home - or at least one of their homes. There are even some low-rise residences that are so rare in urban Hong Kong. Even the older flats are usually quite well-kept and fetch a handsome price.
There are many nice little restaurants and cafes along Shing Wo Road and on the little side streets.
Left: found in Happy Valley is a city boundary stone erected in 1903 to mark the limits of the City of Victoria. There are five more of such scattered around Hong Kong.