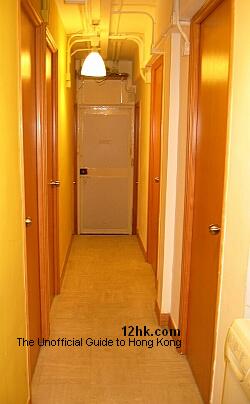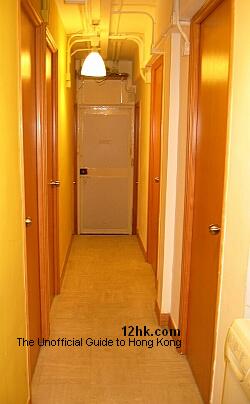 Above: Hallway of inexpensive serviced apartment. There is a range of accommodations that you can find in Hong Kong. From cheap hostels to hotels fit for kings and heads of state, Hong Kong has it.
For those who plan on being in Hong Kong for more than a couple of weeks, finding a serviced apartment / flat or a furnished apartment is probably on the agenda. (A serviced apartment in Hong Kong is usually both furnished and serviced - i.e. they come and clean it for you regularly just like in a hotel.)
Nowadays (Apr 2013), serviced apartments probably start at HK$12,000 (~US$1,500) a month, and better ones - in terms of location, decor, etc. - go for much higher. But there are some that cost a bit less. The photo shown here is the hallway of such. It offers no frills, but it offers your own bathroom, broadband internet access, washing machine, and cleaning service. And the price is more like renting a small flat. But then this is Hong Kong, so it is still not cheap. Above left: hallway of a low-cost serviced apartment - the opposite of the spectrum from the complex pictured at the top.
To choose one, other than your budget, you probably would also consider a few other factors:
location - proximity and accessibility to where you work, and play, and how safe the area is. Some of the popular areas for expats include Central, Admiralty, the Mid-Levels, Causeway Bay, Wan Chai, Happy Valley, and Tsim Sha Tsui. Locations with a suburb feel include Stanley, South Island, Discovery Bay, Lamma Island. more on location
size - Hong Kong housing is typically small; what the management calls a studio apartment may just be a room the size of two beds and a 2 square-yard standing room only bathroom (hopefully you can at least sit down for ye ole #2 business).
noise - some walls maybe so thin that you'll be listening to things you don't care to. Having windows facing a busy street is another source of unwanted noise and sometimes even light pollution from neon signs.
view - a nicer view out your windows is a commodity, and harbor views fetch a premium. more on view
ammenities - internet access, club house / gym, cable TV, etc. more on amenities
Serviced Apartments
Fortress Hill


Sharma