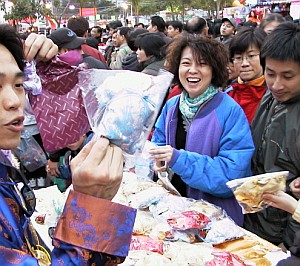 The traditional Chinese New Year's flower market has become both a flower market and a market for all sorts of stuff. But one thing has not changed - it is still packed with people especially on Chinese New Year's eve. In fact at certain hours it is so crowded that you are pressed against other bodies just like during rush hours in an MTR train. Not a good place for those suffering from claustrophobia. Left: a flower market stall in Victoria Park selling cell phone covers
The market typically opens half a month or so prior to the Chinese New Year and is closed by the early hours of Chinese New Year's day, so actually it's the 'Chinese New Year's eve flower market'. To experience the wall-to-wall crowds, go after 8 p.m. on Chinese New Year's Eve. To avoid the crowds, go during the day.
Find out about other Chinese New Year traditions like red packets, color schemes, well wishes.