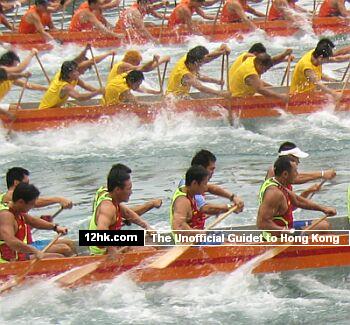 Dragon Boat Festival, actually called Tuen Ng Festival by the locals, is another interesting festival to see. It is celebrated on the fifth day of the fifth month on the lunar calendar (usually falling in June). The main events are the dragon boat races held in many parts of Hong Kong, e.g. Stanley Beach, Shing Mun River in Shatin, Shau Kei Wan Typhoon Shelter, etc. Eating glutenous rice dumplings wrapped and cooked in a kind of leaves is also the tradition.
Legend has it that back in acient China, a government official loyal to the king commited suicide by jumping into a river as an ultimate act of pursuasion. The common people loved him and hence in an effort to prevent fish from eating his body, went out in boats with noise-making instruments to scare them off and throw rice dumplings into the river to feed them.
In a dragon boat, there is a drummer sitting in front facing back, a rudder person at the tail, and pairs of rowers in the middle. Those who have competed in the dragon boat races say that paddling in sync and not individual strength is the key to being fast.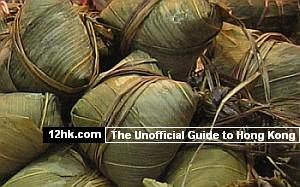 Dates of Dragon Boat Festival :
year 2008: Jun 8
year 2009: May 28
Right: glutinous rice dumplings, totally biodegradeable.