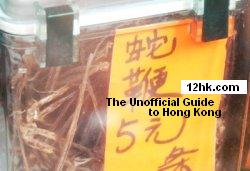 You have probably heard about it, but you can see it, and taste it here in Hong Kong: snake soup. Right: a male snake organ displayed in a snake restaurant on Apliu Street in Sham Shui Po.
Snake soup is a well-known delicacy here in Hong Kong. It is particularly popular in autumn and winter months. But there are snake restaurants that serve it all year round.
Yes, it tastes like chicken.
DIRECTIONS
There's one right in Causeway Bay - snake soup restaurant, that is, with the snakes in cages.
Take the MTR to Causeway Bay station.
Take Exit B at the station. Once you're above ground, you'll be on Lockhart Road.
Cross Lockhart Road (going North).
Walk left for a few yards to the corner of Percival St. and Lockhart Rd.
Start heading north on Percival St.
The snake soup restaurant is the second or third store on your right before you get to Jaffe Rd. They also sell Chinese BBQ.
(2011.6.20)