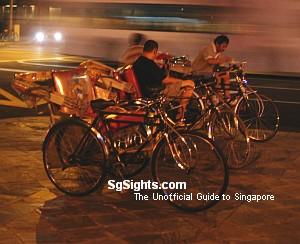 Like many big cities, Singapore has a great subway system - called the MRT. Together with the bus lines, one can get just about anywhere. And then there're taxis to get you to the rest.
The taxis are relatively inexpensive as well. But beware that there are small surcharges for certain times of the day and for entering the central business district.
And then for a leisurely sightseeing ride around downtown, there are tricycles available for hire. (Left: tricycles in downtown Singapore waiting to serve tourists.