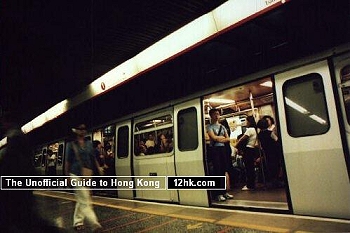 You'll love the MTR, the subway and train system in Hong Kong. Not only is it convenient and efficient, it is quite safe.
The network reaches many parts of Hong Kong, even the New Territories and Lantau Island (one part of it). And during peak hours, there's a train every two minutes or less. But since it is Hong Kong, you'll still see people rushing to catch a train. Every minute counts around here! (Left: MTR during off-peak hours)
But beware that it is mass transit system! During rush hours, you can really appreciate that especially at interchange stations like Admiralty and Mongkok. And you can see trains packed to the edge of the doors but there're still people getting a foothold and squeezing themselves in.
OPERTAING HOURS
Everyday the MTR runs from 6 am or so till past mid-night (Island line, Kwun Tong line, Tsuen Wan line, Tseung Kwan O line) - if you need to find out the exact times, good luck! They don't seem to have that information on their website, and as far as we know, they don't publish a timetable even at the stations on those lines. (They might do so for the other lines though.) The only times we have seen prominently displayed are those of the first and last trains (at the entrances / exits of each station). If you really need to find out, try calling them on the phone (click here for the MTR station phone numbers).
FARES
Both the fares and the journey times are published online and at the stations.
AIRPORT TRAINS
The Airport Express runs between the Hong Kong International Airport at Chek Lap Kok and urban Hong Kong. It takes around half an hour between the airport and the Hong Kong station, with just two stops in between. For this, they do publish the operating hours and the detailed timetable. (More information about airport transportation)
INTERCITY SERVICE TO CHINA
The MTR also operates intercity trains to Guangdong, Shanghai, and Beijing.
- BEWARE -
You would want to know that at many of the MTR stations, there're no bathroom facilities for passengers. It was reported that they would be rectifying that in the coming years - if you can wait that long. If you cannot, then they have graciously provided online the distance of the public toilets nearest to some of those stations (click here for the list of public toilet distances near some MTR stations). But you have to figure out exactly where. (Click here for our comments on bathrooms in Hong Kong.) Basically, the MTR is responsible for transporting you, but not for your own movements! So, all we can say is: plan your moves! (2008.12.30)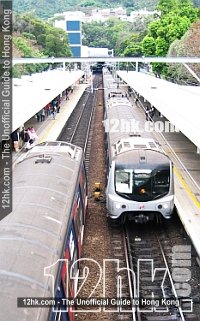 Above: trains at Kowloon Tong station, an interchange between the green line (Kwun Tong line) and the East Rail.