In general, offices of the Hong Kong government are open five days a week. But some government agencies are open on Sundays. Some post offices, for instance, are open on Sundays.
Banks generally open five days a week but some are open on Saturday mornings as well, though maybe with limited service.
Some schools have classes five days a week, while many of those that house both a morning and an afternoon school (hence doubling the capacity of the facility) have students coming in on alternate Saturdays.
Many companies and factories have their workers working five and a half days as well, while some just have a five-day work week.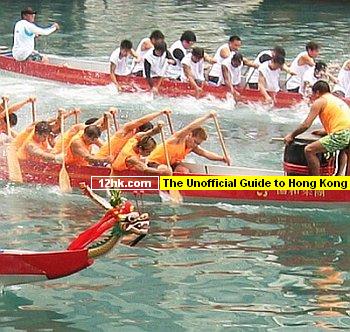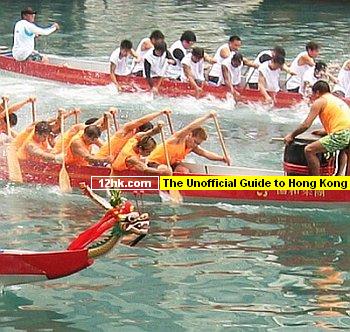 Dragon boat race in Hong Kong, a popular event to watch during Dragon Boat Festival. Due to a mixed Chinese and British "heritage" - if you can call it that, there are both Chinese and western public holidays, so you get off for Chinese New Year, Dragon Boat Festival, Moon Festival, etc. in addition to Christmas, Easter, and New Year's. You can call it "best of both worlds"! A total of 17 public holidays means you have more time to play, but then it also means you have to work harder to get the same work done! If one gets off on Saturdays anyway, you get 'robbed' when a holiday falls on a Saturday.
Other than the public holidays, I understand that schools are free to set their own. Usually international schools tend to have longer summer vacations, while local schools don't let out until mid July. (Above left: dragon boat race, typical in celebration of Dragon Boat festival.)
Get the iCal calendar for your phone/desktop.
Hong Kong 2015 Public Holidays
2015.05