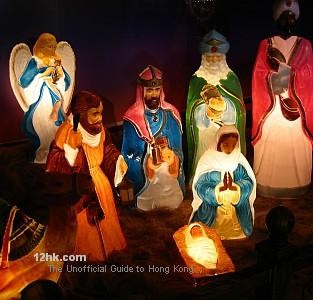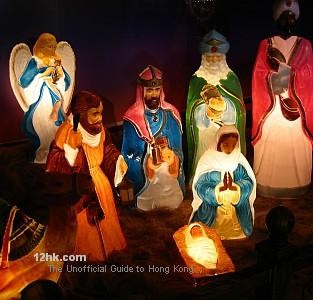 Christmas decorations in Statue Square in Central district Christmas is still a major holiday in Hong Kong due to its past history of being a British colony. In fact the Christmas lights and decorations in shopping areas rival those in western cities, and a lot of the Christmas trappings can be found, including the Nutcracker, choirs caroling, Christmas music in the malls, etc. You can even find real Christmas trees to buy, maybe even a Douglas fir! But then if you're here just for your Christmas vacation, you can just enjoy the 30-ft ones in malls.
If you live where ice and snow are part of life in winter, you can take a break and vacation from all that in Hong Kong. It has never snowed here. Whenever the temperature even approaches freezing point, some get excited and head for the hills or the countryside where it's colder to catch a glimpse of frost! After all, winter wonderland scenery is rare in Hong Kong except in the malls, where you can count on seeing some. And Disneyland, the land of magic, would surely accommodate your yearning heart to see some snow. Whether it looks real or not, that's for you to judge.
If you want to catch some cold temperature just to make it feel more Christmas, go ice-skating and enjoy a cup of steaming hot chocolate afterwards. A number of malls have a rink (e.g. Cityplaza, Festival Walk, Elements, Mega Box).
In short, the Christmas weather in Hong Kong is very mild, but you still should bring a sweater and a jacket. You can probably leave your down jacket for your Beijing trip so that you have more room in your suitcase for shopping!
Talking about shopping, if you need to do Christmas shopping in Hong Kong, there're always Christmas and year-end sales at the numerous malls, complete with Christmas music and decorations. Even Santa might be there for photographs, but a small fee may be charged or receipt from purchase of goods is necessary.
Other than shopping and spending Christmas with Mickey and Minnie, you can also go for a Christmas buffet. Bigger hotels in Hong Kong would have it. In fact, Christmas buffets are so popular that they often sell out, so book a table in advance! I would say Christmas buffet dinner in a restaurant with harbor view would be a highlight.
Another interesting activity would be to see the Christmas decorations. Unlike in US where people decorate their houses and even compete to be the most spectacular, Hong Kong malls do that. After all they have a good incentive: the nicest and most interesting decorations always draw a large crowd. Here are some of the possible places to check out:
To properly celebrate Christmas, another highlight would be singing carols at a Christmas worship service at an English-speaking church. Some of them even have a Christmas eve candle-light service.
Summary of What to To Do
ice-skating & hot chocolate
Christmas buffet
see the Christmas lights and decorations
2011 Special
There's an temporary outdoor ice-skating rink in Tsim Sha Tsui East.
dates: Nov 25, 2011 - Jan 1, 2012
hours: generally 2:00 - 10:30 pm, but some time slots not open (see details)
skate rental: evening HK$30, afternoon HK$15
Directions
By Public Transport

Take the MTR to Tsim Sha Tsui.
Go to exit P2 in Tsim Sha Tsui East (you'll emerge across from the Kowloon Shangri-La Hotel.)

In front of the exit is Mody Rd. Turn left and walk along Mody Rd.

After Regal Kowloon Hotel, you'll see on the left the open plaza with a water fountain.

The ice skating rink is in the house-like structure in the middle of the plaza.

By Taxi

Tell the taxi driver to go to Regal Kowloon Hotel in Tsim Sha Tsui. The ice-skating rink is at UC Centenary Garden next to it. Look for the open plaza with a water fountain surrounded by these buildings: South Seas Ctr, East Ocean Ctr, Hilton Towers, Peninsula Ctr, Regal Kowloon Hotel.



2011.12