Floating Restaurants
Aberdeen, Hong Kong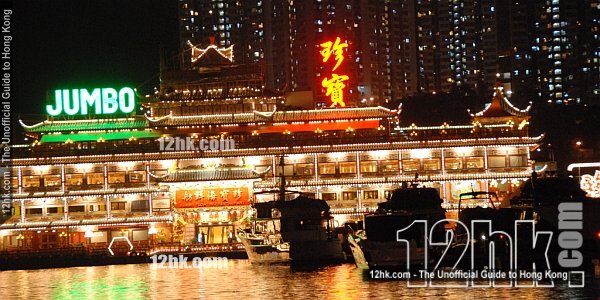 Above: Jumbo floating restaurant in Aberdeen with boats in front and high rises behind.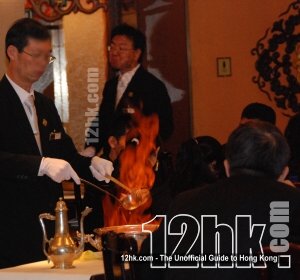 For decades, the floating restaurant has been an attraction. There you can eat seafood in a big beautiful oriental palace-like boat and have a chance to take lots of pictures!
It is located in the Aberdeen Typhoon Shelter cum marina where you can see both Chinese junks and yachts. In fact you can take a little water tour for a few bucks US.
(Left: shrimps being prepared in front of guests.)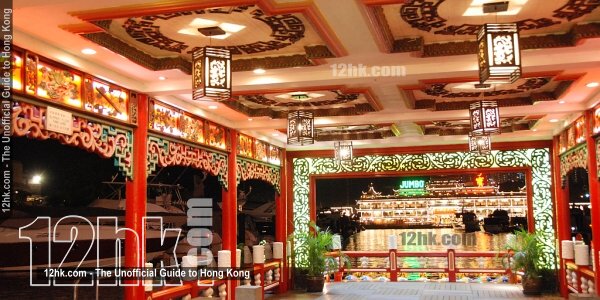 Above: the ornate pier for the little ferries shuttling Jumbo floating restaurant's customers - the restaurant can be seen across the water.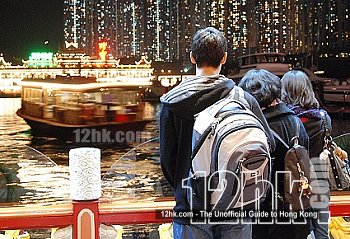 Since the Jumbo floating restaurant is out a little ways from the shore, they have ferries to shuttle you from their pier to the restaurant. It's free of charge and runs quite frequently. Talking about the pier, even that is quite ornate and worth a photo (see picture above of the Sham Wan pier).

(Right: restaurant customers at the ferry pier.)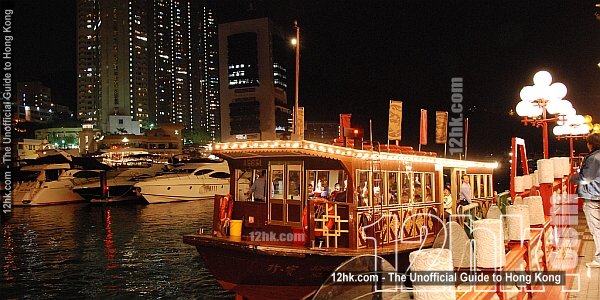 Above: a Jumbo restaurant ferry at the restaurant about to take passengers back to the shore.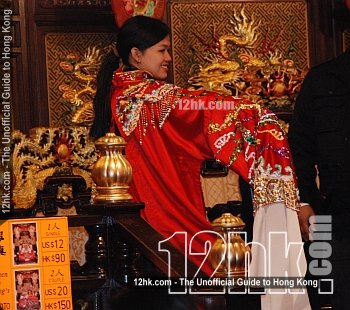 In addition to being diners, for a few dollars (US$12 for 1 person, $20 for two, as of 2009.1.2), you can be king or queen for a few minutes and sit on the throne for as many photos as you want to shoot with your own camera. They provide you with the royal garb.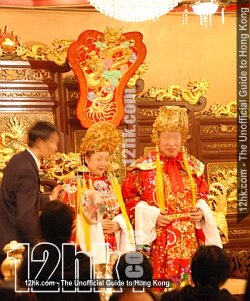 But if you're a king without a queen, I don't think they provide the latter - at least not free of charge. I guess that's nothing new: getting a queen always costs! (Right: a king and queen enjoying their moment or royalty.)
They do take reservations - the restaurant, that is. (The restaurant on the third level is the one with Chinese decor.)
To get to the Jumbo floating restaurant, the best way is probably taking a taxi from Causeway Bay. The cost is about HK$60 (~US$7.70). It takes less than half an hour through the Aberdeen Tunnel.
The alternative is taking a bus. There're a few bus routes that can get you to Jumbo's ferry piers (they have two different piers, one in Sham Wan area and one in Aberdeen). Below are the bus numbers.
Bus Number
From
To
Get Off At Stop #
Cost (HK$)
as of 2009.1.3
Journey Time to Jumbo ferry pier
75
Central (Exchange square)
Sham Wan
13


(Wong Chuk Hang)

$4.70
a good
45 min
72A
Causeway Bay (Moreton Terrace)
Sham Wan
9


(Wong Chuk Hang)

$4.50
a bit less
than 30 min.
70
Central (Exchange Square)
Aberdeen
13
(Aberdeen Wholesale Fish Market, Aberdeen Praya Rd)
$4.70
40 min
72
Causeway Bay (Moreton Terrace)
Wah Kwai Estate
11


(Wong Chuk Hang)

$4.70
30 min.
or more
42
North Point Ferry Pier
Wah Fu (South)
16


(Aberdeen Wholesale Fish Market, Aberdeen Praya Rd)

$6.90
a bit less
than 30 min.
38
North Point Ferry Pier
Chi Fu Fa Yuen
16


(Aberdeen Wholesale Fish Market, Aberdeen Praya Rd)

$6.90
30 min.
or more
Note: buses 72, 42, and 38 all pass by 500 Henessy Rd (outside Hennessy Ctr) in Causeway Bay, so you can just catch any of them at the Hennessy Center stop.