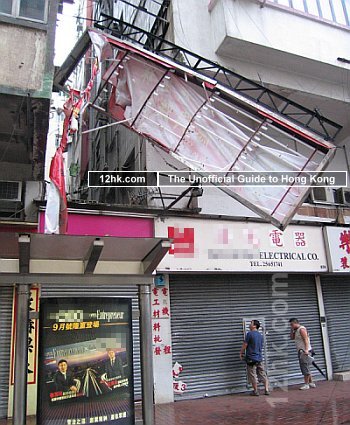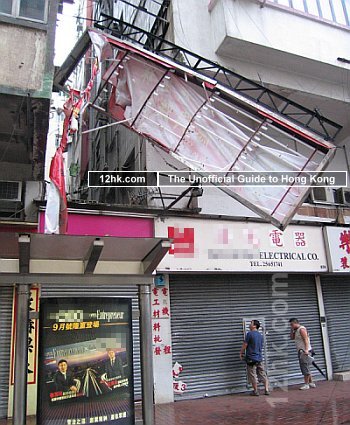 Above: Neon sign dangling above the sidewalk after a typhoon, waiting for unsuspecting passers-by to score a hit
Above: dangling neon sign after typhoon

Hong Kong is in the path of typhoons, aka tropical cyclones. Every year a few would bring some rain - sometimes just that, sometimes also the high winds and an extra holiday.
Typhoon is another name for hurricane. They are defined as tropical cyclones with sustained wind speed of at least 118 km/hr (i.e. 73 mph). In 1962, typhoon Wanda had mean winds of 133km/h (82.5 mph) and gusts of 259 km/h (160.5 mph) in the harbour, and record-setting gusts of 284 km/h (176 mph) at Tate's Cairn.
When a typhoon is within 800 Km (~500 miles) of Hong Kong, the number 1 typhoon signal is hoisted, just as a word of caution. Then if it gets closer, it is bumped up to number 3. At this point everybody wants it to go higher because it means no school and getting out of work! But of course those living in flood-prone areas and shakey housing think otherwise.
The next typhoon signal after 3 is number 8. Nowadays the Observatory actually gives an advance warning, telling people two hours in advance that the number 8 will take effect - in order to allow people to make preparations to go home and to pick up kids from school. For some it also lets them call up a few friends to to celebrate the windfall holiday with a mahjong game.
When number 8 hits, most schools and offices close. So do many stores, except convenient stories, some supermarkets, and some gas stations. The trains, ferries, buses, etc., will begin to suspend service depending on the conditions - understandably, ferries are always the first to go - or rather, to stop.
But movie theatres tend to stay open and capture the windfall audience. Watching a movie seems a popular way to celebrate an extra day off.
Large bamboo scaffoldings around buildings also like to fold and block up streets to celebrate signal number 8.
If a typhoon gets within 100 km (62 miles) or so of Hong Kong, it is considered a direct hit and the ultimate number 10 goes up. It means "stay off the streets" unless you want to play "dodge neon signs". (All kinds of stuff not securely tied down enough will get blown off, flying around, looking for a victim!) But then there are those who love to see the wind and waves at the waterfront. And some may even go surfing.
The typhoon season for Hong Kong is from around July to September. If you happen to visit Hong Kong during a typhoon, just pray that it is not more than a 3! And a number 10 will be quite a damper because most of the stores will be closed. If you are staying in a harbor-view hotel room during a number 10 or even an 8, stay away from the windows!
(For more info, check the Hong Kong Observatory's webpage.)
If you are a tourist stuck in Hong Kong during a typhoon, here is a list of suggestions on what to do.