North Point street market
Chun Yueng Street
Above: Chun Yueng Street, with stalls on both sides and the tram slowly making its way through.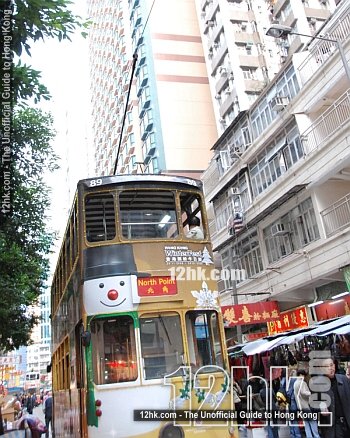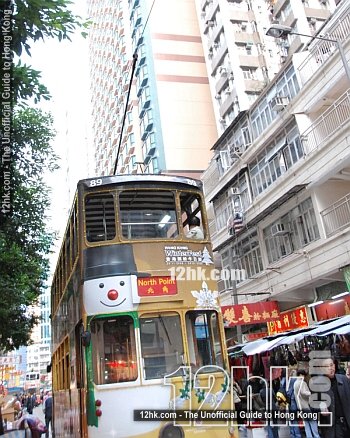 Above: The century-old tram line on Chun Yueng Street, North Point, with Newton Inn hotel in the background.
A rustic tram on Chun Yueng Street, North Point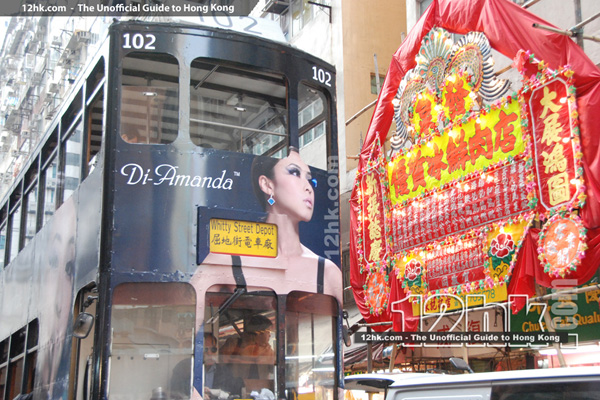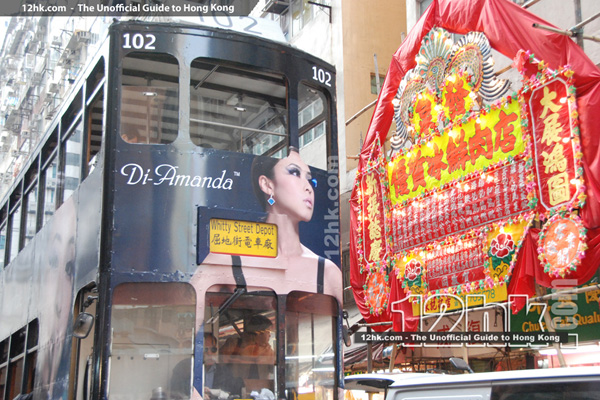 Above: Tram and a grand opening 'flower sign' of a frozen meat shop on Chun Yueng Street, North Point.
Tram & 'flower sign' on Chun Yueng Street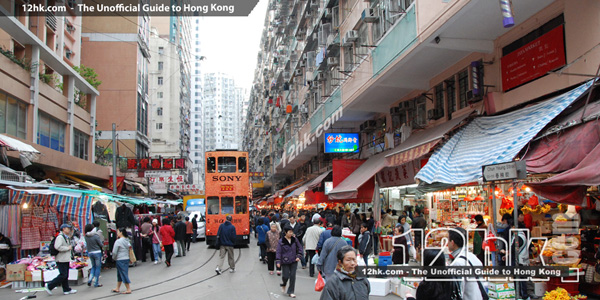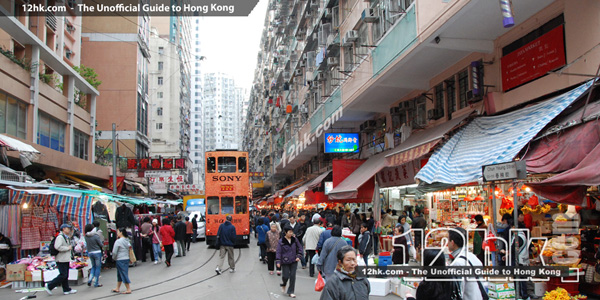 Above: Chun Yueng Street, North Point, with its stalls and shops and tram.
Chun Yueng Street, North Point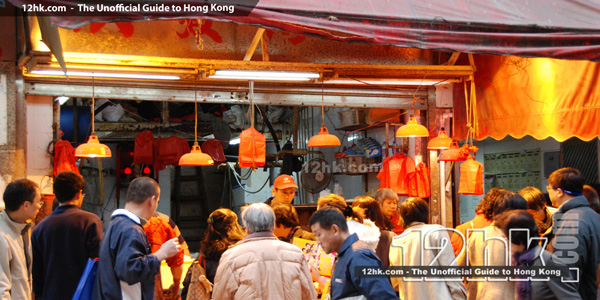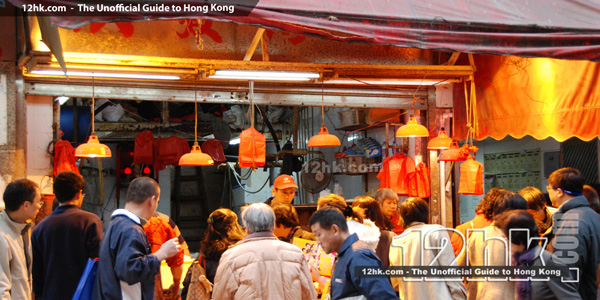 Above: a shop on Chun Yueng Street, North Point.
shoppers on Chun Yueng Street

Chun Yueng Street in North Point may not have a big street market, but since it's still relatively unknown to tourists compared to other street markets like the Ladies' Market and Temple Street, it has retained its local feel. After all it is where the locals shop. In addition, what makes it unique is the tram going through it.

By definition, a street market has temporary hawker stalls. Chun Yueng Street has such, mostly selling clothing and household items. But the permanent stores have extended their shop space onto the street, so you'll see trays and baskets of vegetables, fish, and maybe even piles of chicken feet out and about, waiting to be grabbed. Besides, there're also a number of butcher shops, with the fresh meat prominently displayed at the storefront and the butcher and his cleaver standing and chopping to order.
Directions
Chun Yueng Street is easily accessible by tram, MTR, buses, or taxis. The MTR is the most convenient from many parts of HK. But since the North Point tram terminal is just right around the corner, it's an excellent choice as well.
Get to the North Point station on the dark blue line and get off.
Get out of the station through exit A2.
Once above ground, you're on Marble Road. Turn right and cross Kuk St.
Keep going west on marble Road and cross Tong Shui Rd by going below the overpass (flyover).
Once on the other side of the overpass, go left and you'll see Chun Yueng Street on the right.
Take an east-bound tram on Hong Kong Island that terminates at North Point.
(You can board it from any of these areas: Kennedy Town, Sai Wan, Sheung Wan, Central, Admiralty, Wan Chai, Causeway Bay, Tin Hau, Fortress Hill.)
The terminal is on Tong Shui Rd. next to an overpass.

If you get off there, follow the tram track back to the street before it turned. That's Chun Yeung Street.
If you get off after the tram turns into North Point Rd, you will be at the intersection of North Point Rd and Chun Yeung Street.