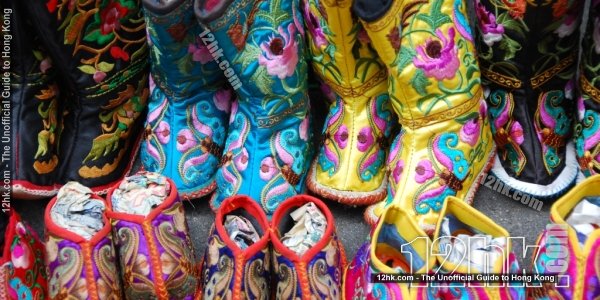 Above: embroidered shoes seen on Cat Street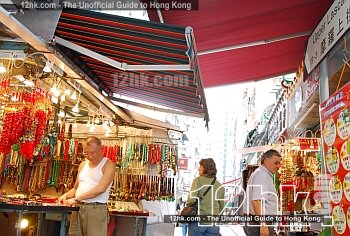 If you're looking for antiques or antique-like knick knacks and collectibles, Cat Street, or Upper Lascar Row, on Hong Kong Island is one place you would want to do your hunting.
Legend has it that its nickname of "Cat Street" came from the old days when it was the place to go to buy back one's stolen property. (Nowadays, Ap Liu Street may be a better place for that.)
Above: some tourists checking out the stalls on Cat Street.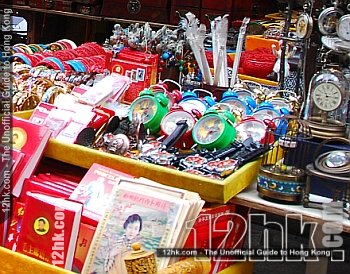 From little red books with Chairman Mao on the front to old clocks and pocket watches, you can find them on Cat Street.
Above: some people's treasures on Cat Street.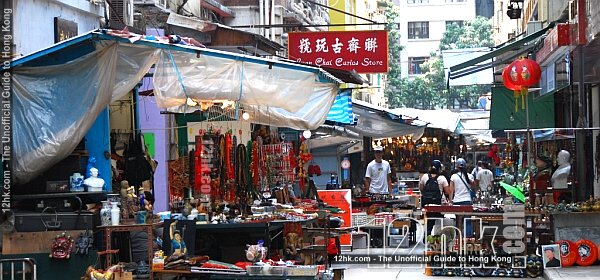 Above: stalls on Cat Street with plenty of treasure to rummage through.
Directions
Take the MTR to Central station.
Take the escalators up and get off at Hollywood Road.
Go right (west) on Hollywood Road.
Once you pass the Hollywood Terrace (a residential complex), look for Ladder Street on your right.
Go downhill on Laddar Street and Cat Street / Upper Lascar Row is a small sidestreet just downhill from Hollywood Road.