Old Hong Kong
A Dose of Nostalgia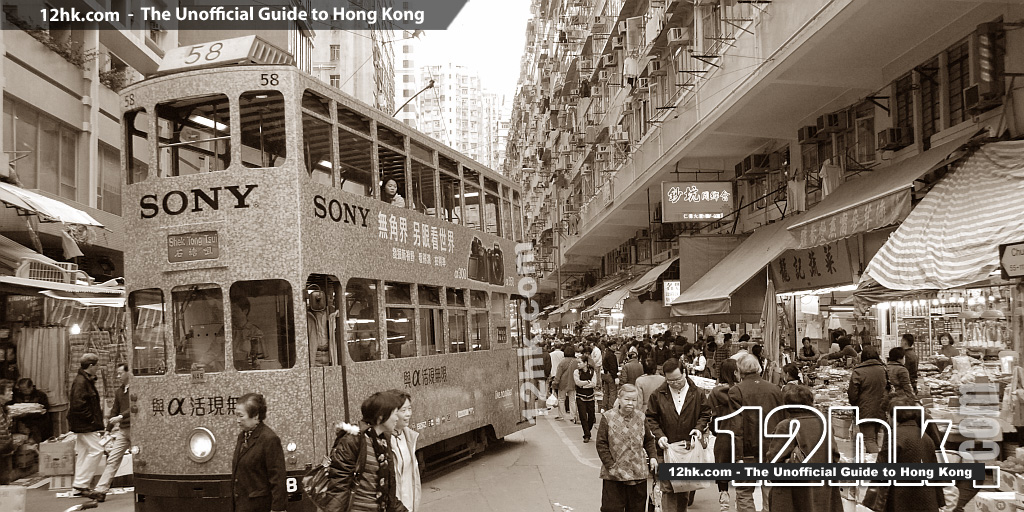 A tram passing through Chun Yeung Street lined with butcher shops and vegetable shops. in North Point
Not a lot of old Hong Kong has been preserved since the old is so often discarded to make room for the new. But you can still find traces of them here and there. Here's a list. And we welcome suggestions.
These electric trams have been running for a century. And a lot of them are still made of wood. But that may not be for long: plans have been announced to replace them with alloy ones.

North Point and Causeway Bay terminals are the best places to catch a ride since they are located conveniently and you can just ride a few stops. Besides, you can get the best seats since you start from the terminal. North Point in particular is great because it loops through Chung Yeung Street which is lined with shops under an older building. It's great to watch the tram inch along as pedestrians make way for it.

Note: trams starting from these terminals go west only, toward Central or beyond.
Food & drinks
Sidewalk & Pushcart Snacks

The best thing about these snack hawkers is the wonderful smell that advertise their product. Baked sweet potatoes, roasted chestnuts, steamed corn on the cob, curry fish-balls, pig skin, beef offal, 'eggettes', waffles, ...

A good area to find them would be Mongkok.

Drinks

Hong Kong milk tea is a drink that has earned its reputation. But of course not every restaurant has it or can brew it just right. Then there's 'yin yeung' - half coffee and half milk tea. Try it; you may like it!

Good places to find them would be 'cha chaan teng' ('tea restaurants').

Desserts

Red bean shaved ice, egg tarts, steamed egg, bean curd jello (aka tofu fa), lotus paste bun, milk custard bun, sweet potato soup, sesame soup, peanut soup, walnut soup, grass jelly, just to name a few!

Good places to find them would be dessert cafes. There are a few chains, and Causeway Bay has a number of shops.

Breakfast foods

Congee & deep-fried breadsticks, deep-fried pair (aka 'ja leung')steamed rice roll (aka 'cheung fan'), roast pork bun (aka 'cha siu bao'), pineapple bun, cocktail bun, etc.

Good places to find them all would be dim sum restaurants, which are just about everywhere.

Old style restaurants

Some restaurants have retained the old style HK look and feel - some complete with ceiling fans, spittoons, and holey tablecloths! And some have cropped up as retro attractions.



Lin Heung tea house - Central, Hong Kong Island. Decades old.

G/F, 160-164 Wellington St, Central, Hong Kong.

Luk Yu tea house - Central, Hong Kong Island. Decades old.
Matchbox cafe - Causeway Bay, Hong Kong Island. Retro style.
Though on the verge of extinction, there's still a remnant of artists and patrons holding onto the ancient art of Cantonese opera.

Sunbeam Theatre in North Point is the most likely place to catch a show.
Old Hong Kong in miniature has become popular. Little snack pushcarts, old-style shops, 'dai pai dongs' (sidewalk restaurants), etc., etc. You can take a few home. Check out the following shopping ideas:


UML - Causeway Bay, Mongkok (multiple stores), & Central.
Causeway Place - Causeway Bay; a shop in this shopping center specializes in old HK miniature display sets.
Shopping
Other than miniature displays, there're also other items to take home to reminisce old Hong Kong. Check out the following shopping ideas:


G.O.D. - retro designs, quite creative. Victoria Peak, Causeway Bay, Tsim Sha Tsui, Central, Stanley, Sai Kung, etc.
2012.12
Related pages