Silvermine Beach may just be ideal if you would like to stay at an out-of-the-way place and right on the beach. You won't believe that you're in Hong Kong. Located on Lantau Island, it is nice and quiet especially on weekdays not in summer. A 30-minute fast ferry ride will get you there from Central district on Hong Kong Island.
In addition to the beach, there are some children's playgrounds and there are plenty of hiking trails on Lantau Island. You can actually walk all the way to Discovery Bay, a nice little residential neighborhood.
Right: View from Silvemine Beach toward the ferry pier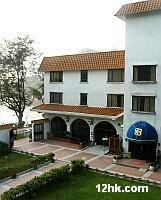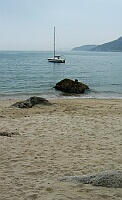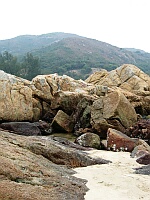 Above left: Silvermine Beach Hotel
Just a short walk from the ferry pier is this little hotel right at the beach. A nice place to get away from the crowds of urban Hong Kong. There are also a few smaller guest houses located at the beach.