Golden Computer Arcade / Center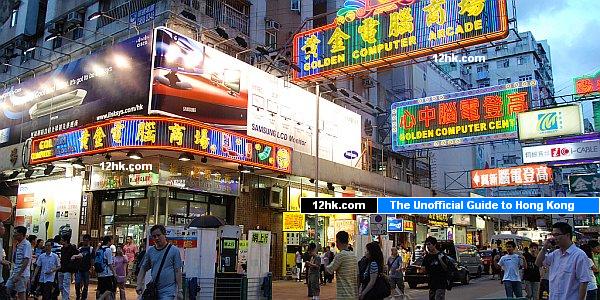 The Golden Computer Center and Golden Computer Arcade are shopping centers located on top of each other next to the Sham Shui Po MTR station. Awaiting you are all kinds of computer stuff in those 4 floors of shopping space crammed with one shop after another.
Custom Built Computers
"Golden", as the locals refer to it, is particularly known for built-to-order desktop computers. You can specify the processor speed, amount of RAM, hard disk size, the monitor, whatever. Want one souped up for playing computer games? They'll do it. They can also upgrade your machine - more memory, change your HD to SSD (solid state drives) or just add one, a more powerful power supply, whatever, they can do it. And if they can't, you probably don't need to go elsewhere. And if you want to just buy the parts to DIY, no problem, many stores will be ready to sell you just want you need - and maybe even don't need!
Computers & Supplies
Then if you're looking for name brand - or off-brand - off-the-shelf desktop computers or tablets, you can find them there as well. Computer peripherals like wireless mice, keyboards, portable external hard disks for backup, cables, blank DVD's or Bluerays, computer locks, you can find them all there. You can even find bamboo keyboards there!
Software & Books
Software stores? Well, they are much less common than computer and peripheral shops. There might be a few, which pales when compared with the probably hundreds of shops selling computers and peripherals. There're also a few computer bookstores, but unfortunately they mainly sell Chinese computer books and magazines. (But then, who reads books these days!)
Phone Accessories
In addition to computer stuff, there're many shops selling phone accessories now. You can find smart phone covers and cases of all styles, charging cables and chargers, battery packs, screen covers (they will even put it on for you), etc., etc.
Computer Games & Camera Equipment
"Golden" is also the place to go to find video game consoles, video games and cartridges. You can count on the shopkeepers knowing their stuff - they play the games too, at least from what I've seen. A few camera stores got into the action as well, enticing you with the cameras, lenses, tripods, and other photographic equipment that you did not mean to buy.
Repair Shops
If you have a dead computer or water-damaged smart phone, there's a repair shop or two in "Golden" to save your day as well - of course that's only if your day is "savable"!
What is Where
This entrance you see in the photo at the top of this page is closest to the MTR station. It gets you into the basement (mainly computer peripherals) and the upper ground floor (computer game machines and games, plus some computer shops and peripherals). The entrance to the first floor, where there are a lot of computer stores, is around the corner to the right. + see photo- hide photo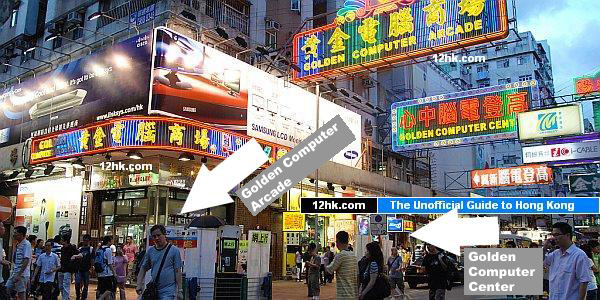 Computer Widows & Spouses
If you have no interest in computers and electronic gadgets, there's a streetful of clothing hawker stalls nearby where you can find bargain jeans, sweat suits, etc. And if it's not a Sunday, there're lots of clothing accessory stores nearby where you can find everything you need for your sewing project. There's even a leather craft store.
Hours
Typically 11am - 7pm daily (but it varies from store to store, and many stores are closed during Chinese New Year in early spring)
Directions
The easiest way to get to the Golden Computer Arcade/Center is to take the
MTR
.
Take the MTR to the Sham Shui Po station on the red line (just two stops after Mong Kok going from Tsim Sha Tsui or Central).
Take exit D2 from the station.
Once above ground, you will see the entrance to the Golden Computer Arcade across the street slightly to the left.
(2012.2)
Related pages